RMV to Dana Point on two wheels. The Ultimate San Juan Creek Bike Trail Guide
Image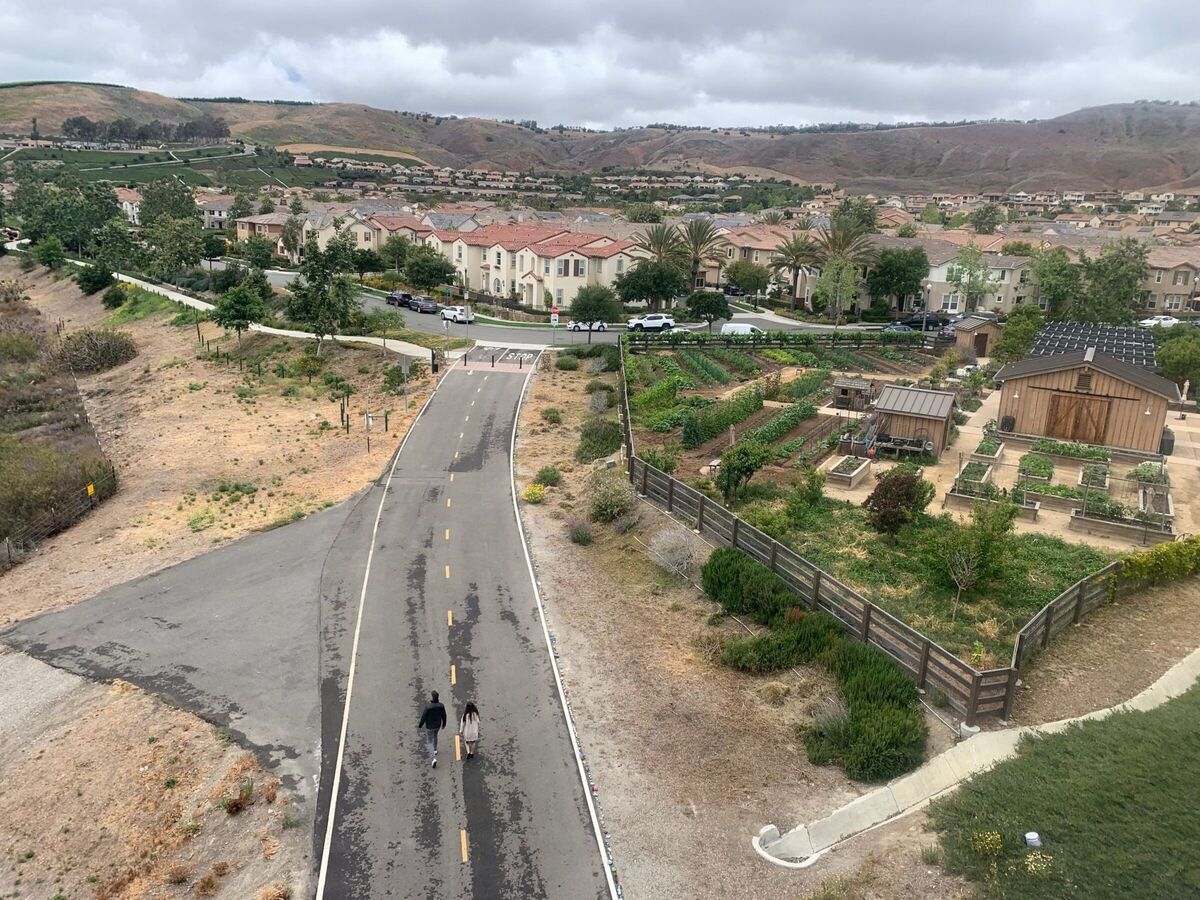 Every good bike ride should have a good distance, a sense of destination, beauty, variety, and some surprises along the way.  The bike ride from Rancho Mission Viejo to Dana Point provides a perfect few hours on the pedals on the San Juan Creek Trail of South Orange County.
I've met too many newcomers to Rancho Mission Viejo who've 'heard you can bike all the way to Doheny' but weren't sure how to do it. If you live in South OC, you know it can be a challenge to find a long flat bike ride that's isn't peppered with 4-way stoplights or isn't called Huntington. (Just don't tell everyone.)  Here's your guide, broken into stages, although it's not too difficult to navigate, this might help avoid a few u-turns.  Spoilers ahead for those who prefer to just wander.  Fill the water bottles, check tire air pressure, and go west. The trail is about 6.5 miles to the beach, depending on where you start.
The Start & Equestrian Stage. 
If you're starting from inside RMV in the morning, Canyon Coffee, in Esencia is a great local cafe to meet your fellow riders and caffeine-up.  There are a few Rancho Mission Viejo paved NEV trails that will lead you to this intersection of Ortega and Reatta.  
Reatta and Ortega intersection. (If you're biking from within RMV with kids, or if you don't want to wait for a long light, there's a bike trail that ducks under Ortega to the east of this about 100 yards.)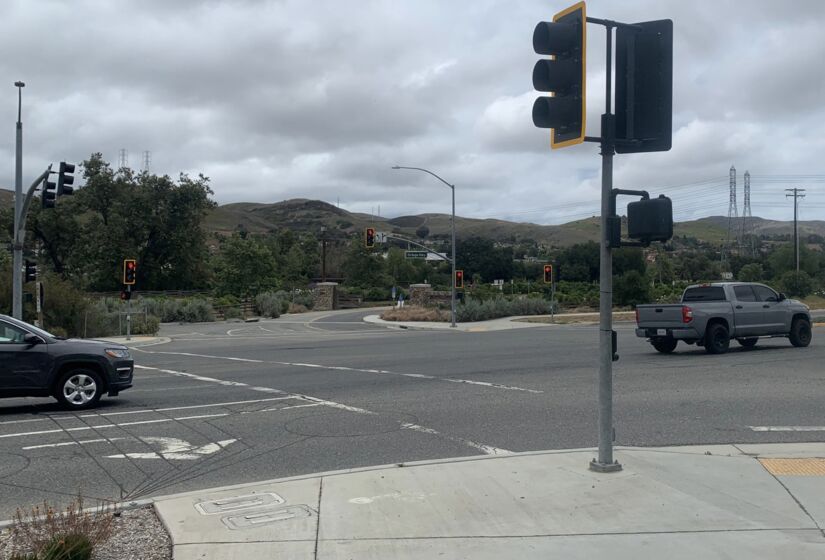 Reatta orange grove and park parking lot.  (Free parking, and if you're in the Esencia side of RMV parking here saves you that big incline on the way back home.)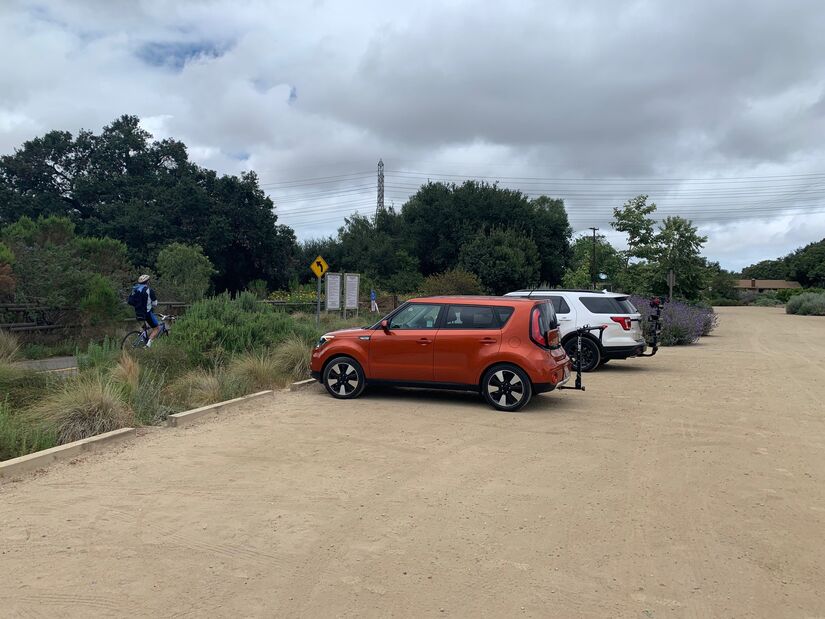 From here, you'll pass horse farms, soccer fields, and don't miss the birdhouse stop. As you approach the stables, you'll want to stay left along the marked trail. Keep a respectful distance when approaching riders.
"On your left." Be sure to watch for horses.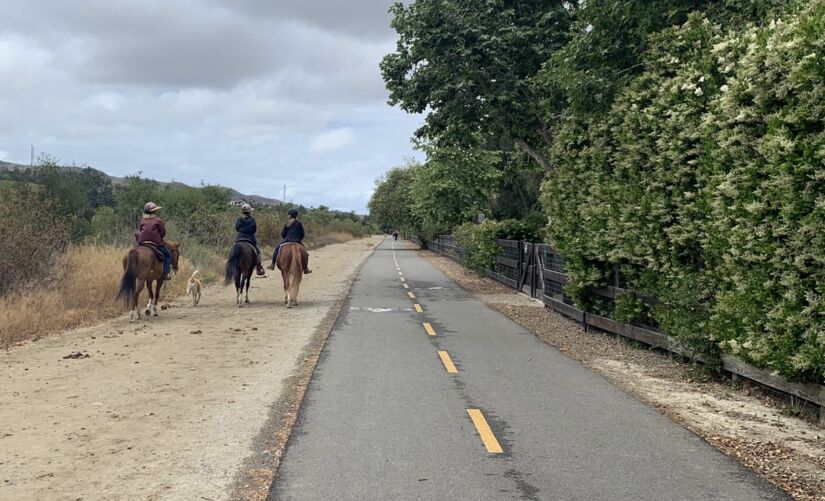 Mission Trails Stables; hang a left onto the bike trail here and enjoy some equestrian views.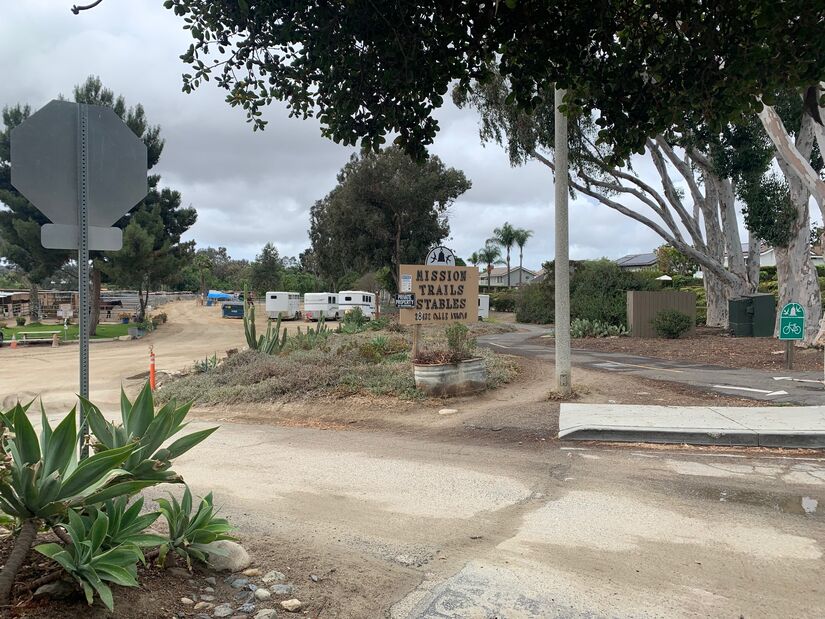 Take a water break at Arroyo Bird Park, and birdhouse museum.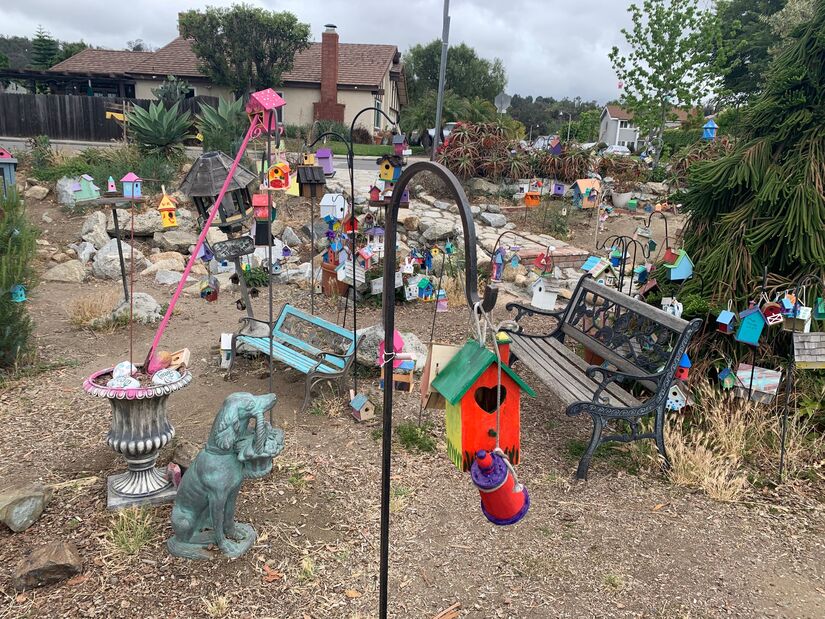 La Novia Crossover.  The trail continues here on a shared bike/walk trail along Calle Arroyo. Tak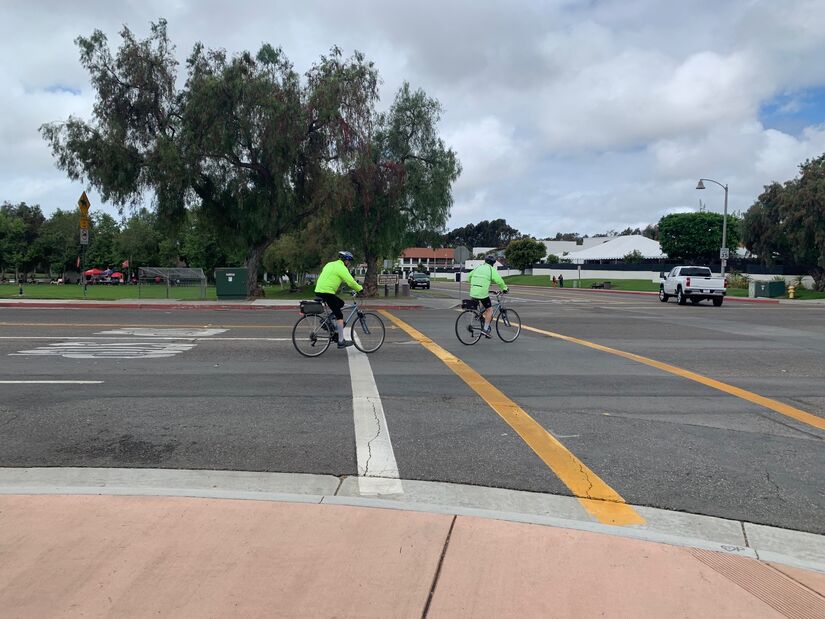 This is Paseo Tirado near 24-hour Fitness. It feels like a work zone, dead-end and not well marked, but it's where the paved trail picks up again. First, take a left here.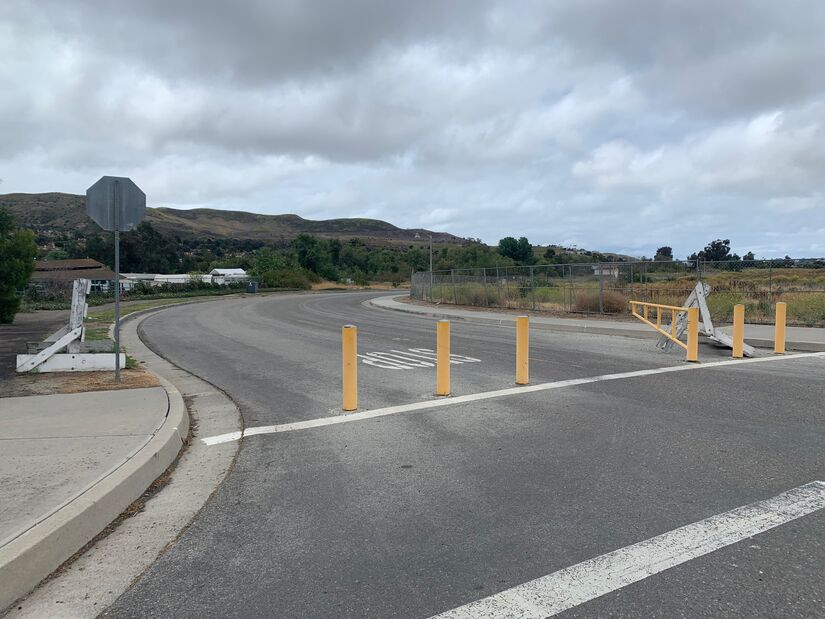 ...and head towards San Diego Freeway here.  (There's a fork just ahead, where you can choose a brief off-road gravel hill option for 200 yards, but it's not much.)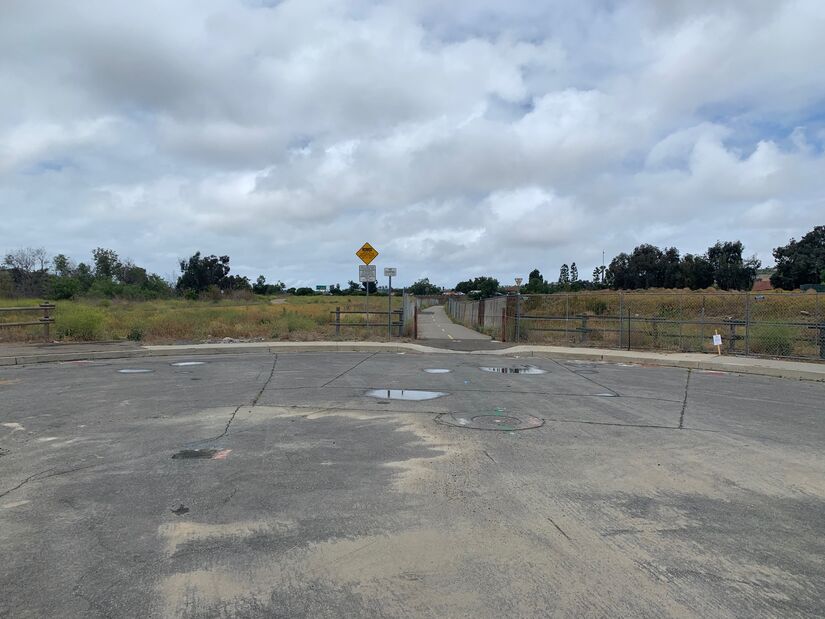 The City Stage:
OK, I'm going to admit, this stage doesn't make it into the visit Orange County postcards or Instagram posts, as it passes under interstate 5, behind grocery stores, and under a few more underpasses. This part of the trail has cleaned up a bit over the years. Keep on the trail versus going over the crosswalks, unless you want to hit up a few San Juan Cap shops & grab some Trader Joe's salted caramel squares.
Don't be scared, you can make it under the 5, but I wouldn't have an evening picnic here.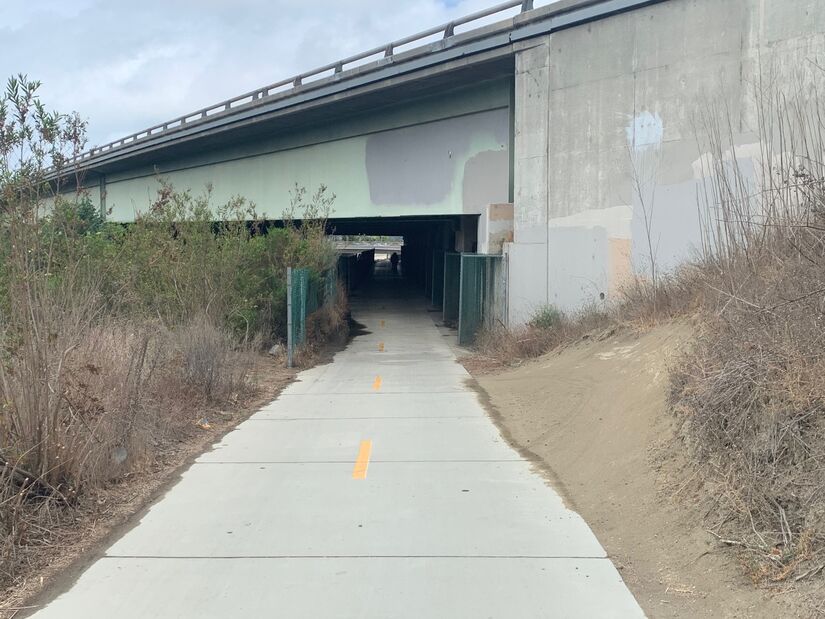 San Juan Capistrano under Camino Capistrano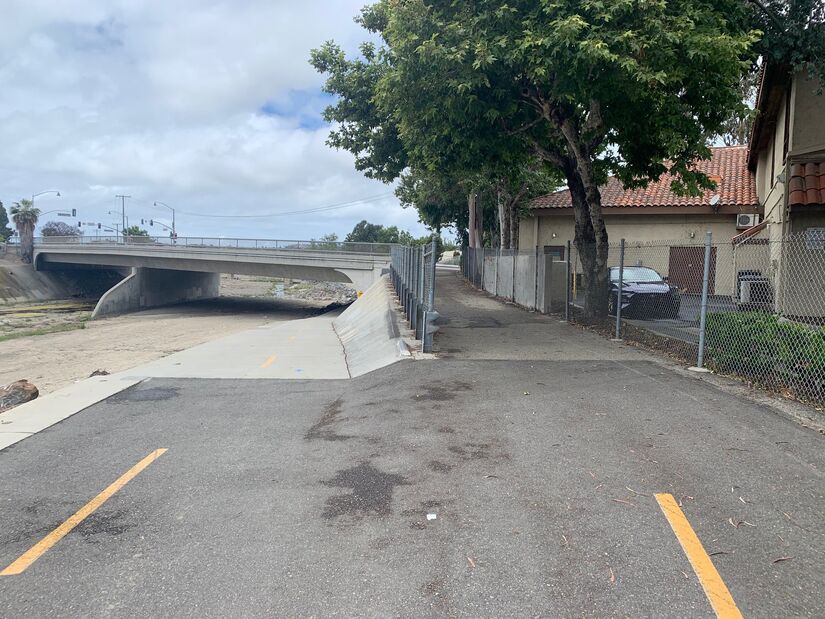 When you get to the bridge where the rivers merge, go over the bridge and take a left. A right turn before the bridge takes you back to San Juan Capistrano and Hidden House Coffee is not too far. (Worth it.).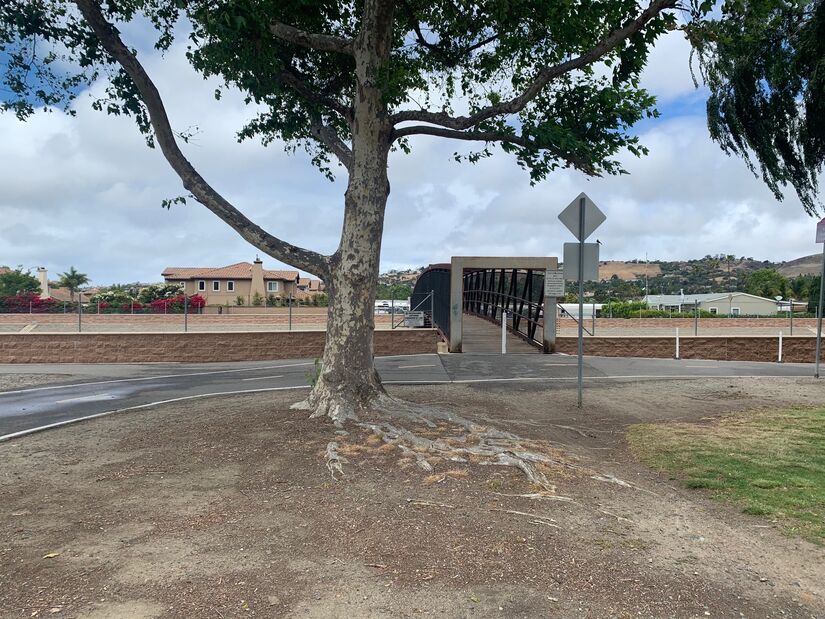 The San Juan Creek Stage: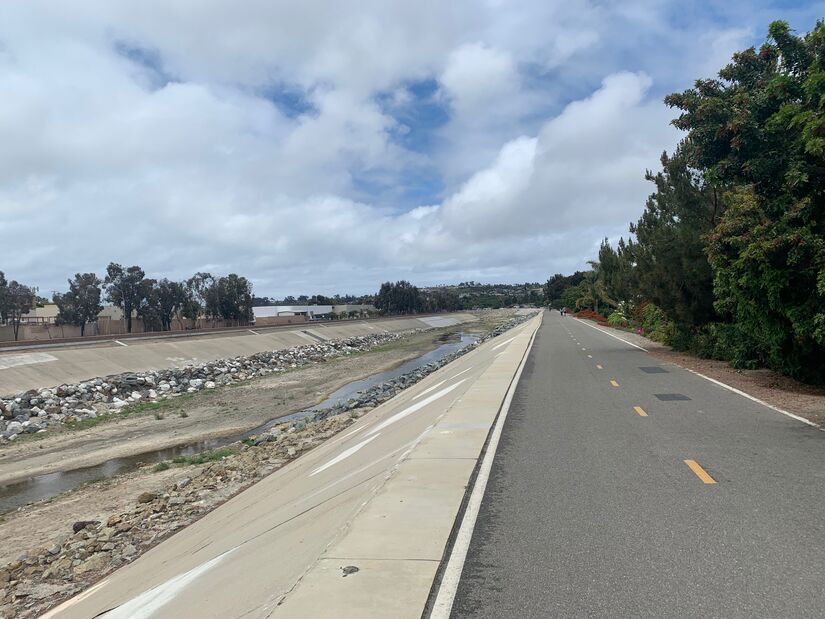 Here's where things are a bit more predictable and straight. You're heading straight for Dana Point here with a few bends with the watershed San Juan Creek to your left. If you have squiggly youngsters on bikes, this might be nerve-wracking as there are some unguarded steep cement declines that would be bad news if you're not a good wrangler of toddlers.  
Dana Point.  
New South Cove development complex and PCH Hwy underpass just ahead.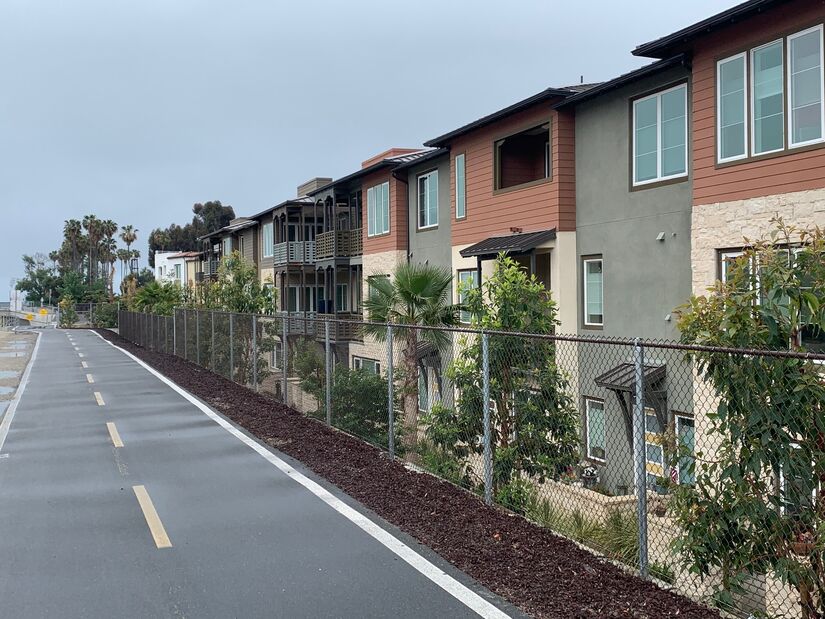 Doheny State Beach and South Coast Audubon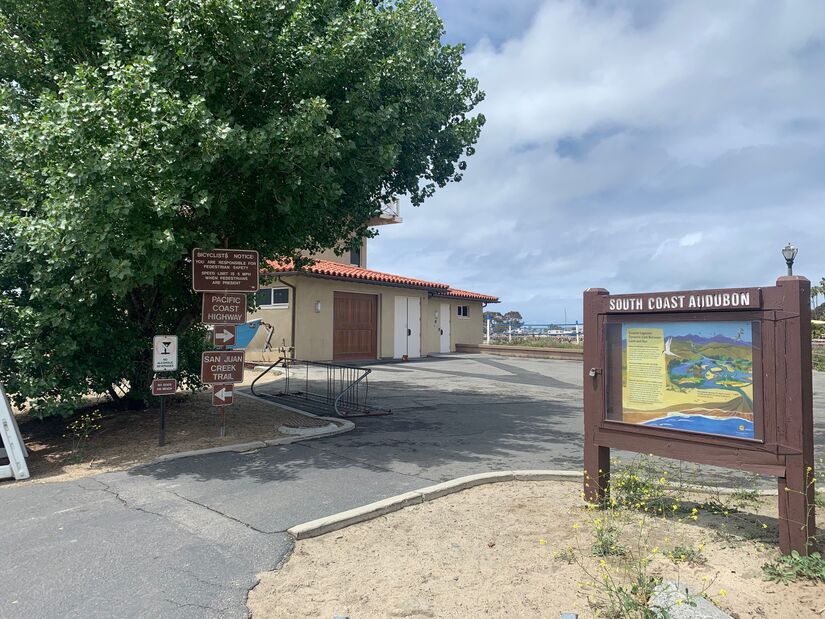 Audobon and river's end. 
Stay pointing southwest (and probably into the wind) and you'll soon t-bone right to the lifeguard tower at Doheny Beach. Picnic right there, or go north into Dana Point Harbor, or ride south around Doheny State Beach or further along the PCH to San Clemente.
Bonus Stage. San Clemente.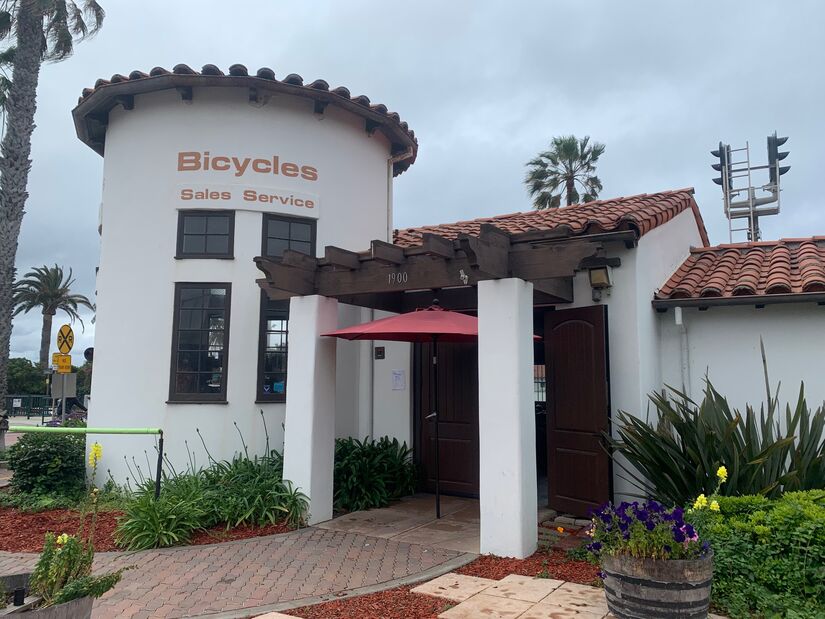 If you keep going south. You make a little u-turn through The Doheny parking lot and jaunt south through the Doheny State Beach south parking lot trail extension.  When the lot ends, cross over the railroad tracks and use the PCH trail further. 
Need some chain lube? Bicycles San Clemente, is a converted antique depot building that is a quaint, bike shop with a bicycling Jedi master, Pete Van Nuys as proprietor. (After a few visits, I'm convinced he's the most knowledgable bike trail, industry, trends guru in Southern California, with a lifetime of two-wheel experience.)
Just a little 15 minutes further south and you can make it to the Pier in San Clemente, where ice cream, coffee, pizza, pizza treats might fuel you up.  The PCH and Beach trails further to the south are mixed with some even greater views, some narrow boardwalk bridges, and fresh sea air.
Whichever destination you pick, enjoy the bike trip back home or to the parking lot.
Other tips:
- Mind your common 'on your left' etiquette, and it seems more bikers are wearing headphones. Don't startle your fellow riders.
- Ebikes. We love 'em, but mind your speed, and watch for toddlers and walking groups. (See our follow-up story on bikes.)
- If you can, bring a spare tube. Based on experience, twice without backup, it can be a long walk back home or to a bike shop. The river and roads can leave some random nails, screws, or the occasional broken glass, as with any urban trail.
-Mind the steep cement dropoffs along the riverbank.
-Support your local bike shops, there are a number of good choices in San Juan Capistrano and Dana Point.
-After major rainfall, the trail's end can be flooded under PCH1.  There are alternates though, but be mindful of recent weather. The river can be a spectacle (and dangerous) at times.
-Wear bike helmets.
Enjoy the ride.  Did we miss anything?   Post in the comments if you've found any hidden must-stop areas.